Tribute, speech & smartphone.
Even posthumous tributes aren't what they used to be.
Mandela is dead, respect too.

---

In unlikely event you are not aware, Nelson Mandela is dead.
If you do not know is that you're either dead or you live at the bottom of a cave and you are cut of "civilization". Indeed, the global media hype in full swing since the death of former South African president.
Obviously, the man deserves the tribute that his people makes him. Although he was not perfect (but who can argue ?), it's clear that it must be considered a good man.
Besides the popular tribute (although probably a bit orchestrated), there is also another "tribute". Or recuperation. Or opportunism. Or thirst for recognition. Or to pass the time...
The politic-popular-religious ceremonyNote which was held at FNB Stadium in Johannesburg was the event not to be missed for the world gratin. Be associated with the memory of Mandela is and will in the coming years, very fashionable.
Spend on food and empty rhetoric ("the big man", "the hero", "the peacemaker of South Africa", "a great loss to humanity", etc.). Invariably, they are found in every funeral, just change the name of the deceased and voila.
By cons, as the event took place in a football stadium, once said speech with a grave and saddened tone is over, the party can begin in the stands. Obama's example is particularly telling in this regard. The disadvantage of the funeral in a place of worship is that you keep a straight circumstance throughout the ceremony, not in a stadium.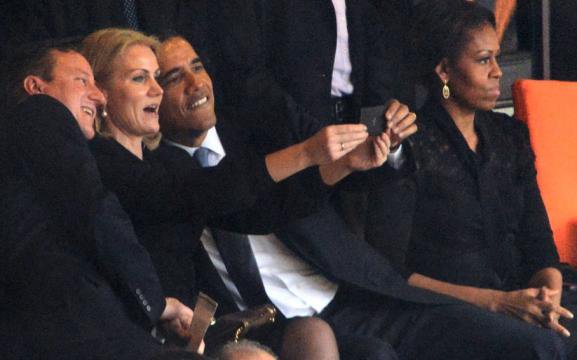 Roberto Schmidt - AFP
Finally, the image that the world will hold the ceremony.
Ceremony in honor of that yet ? Whatever...
As a reminder, this is this guy who died.
This is not Paul Walker or Morgan Freeman.
Personally, I wonder if Mandela or his family would have wanted such a joke.
Forgotten dignity, respect and reverence... My feeling about this media orgy is that all these people (the vast majority) will say "I was there" and that's all that matters.
Finally, the ceremony was a reflection of today's society : know how to seem.
---
---
Note
List of guests :
Hamid Karzai (Afghanistan), Desmond Tutu, Jacob Zuma (South Africa), Abdelkader Bensalah (Algeria), Joachim Gauck (Germany), Manuel Domingos Vicente (Angola), Muqrin bin Abdulaziz Al Saud (Saudi Arabia), Amado Boudou (Argentina) ), Tony Abbott (Australia), Perry Christie (Bahamas), Abdul Hamid (Bangladesh), Filip of Belgium, Elio di Rupo, Kris Peeters (Belgium), Yayi Boni (Benin), Ian Khama (Botswana), Dilma Rousseff, Luiz Inácio Lula da Silva (Brazil), Pierre Nkurunziza (Burundi), Stephen Harper, Kim Campbell, Brian Mulroney, Jean Chrétien (Canada), Li Yuanchao (China), Juan Manuel Santos Calderón (Colombia), Kamalesh Sharma (Commonwealth of Nations), Ikililou Dhoinine (Comoros), Joseph Kabila (Congo), Denis Sassou Nguesso (Congo-Brazzaville), Jung Hong-won (South Korea), Alassane Ouattara (Ivory Coast), Ivo Josipović (Croatia), Raúl Castro (Cuba), Frederik of Denmark, Helle Thorning-Schmidt (Denmark), Ismaïl Omar Guelleh (Djibouti), Nahyan bin Mubarak Al Na Hyan (United Arab Emirates), Felipe of Spain, Mariano Rajoy (Spain), Urmas Paet (Estonia), Barack Obama, Michele Obama, Susan Rice, George Bush, Laura Bush, Bill Clinton, Hillary Clinton, Jimmy Carter (United States), Haile Mariam Dessalegn (Ethiopia), Herman Van Rompuy, José Manuel Barroso (Europe), Sauli Niinistö, Martti Ahtisaari (Finland), François Hollande, Nicolas Sarkozy, Laurent Fabius, Christiane Taubira, Valerie Trierweiler, Claude Hoarau (France), Ali Bongo Ondimba (Gabon), Yahya Jammeh (Gambia), John Dramani Mahama (Ghana), Alpha Conde (Guinea), Teodoro Obiang Nguema Mbasogo (Equatorial Guinea), Donald Ramotar (Guyana), Pranab Mukherjee, Sonia Gandhi, Anand Sharma, Sushma Swaraj, Sitaram Yechur, Satish Chandra Mishra (India), Mohammad Javad Zarif (Iran), Michael D. Higgins, Mary Robinson (Ireland), Enrico Letta (Italy), Portia Simpson-Miller (Jamaica), Naruhito, Yasuo Fukuda (Japan), Christiane Amanpour, Bono, Richard Branson, Naomi Campbell, Chelsea Clinton, Anderson Cooper, Peter Gabriel, Bill Gates, Charlize Theron, Oprah Winfrey (jet set), Rania of Jordan, Abdullah Ensour (Jordan), Uhuru Kenyatta (Kenya), Najib Mikati (Lebanon), Samir Hosny (Arab League), Tom Thabane (Lesotho), Ellen Johnson Sirleaf (Liberia), Henri of Luxembourg (Luxembourg), Joyce Banda (Malawi), Navin Ramgoolam (Mauritius), Enrique Peña Nieto (Mexico), Charlène of Monaco (Monaco), Armando Guebuza (Mozambique), Hifikepunye Pohamba (Namibia), John Key (New Zealand), Mahamadou Issoufou (Niger), Goodluck Jonathan (Nigeria), Haakon from Norway, Erna Solberg (Norway), Jim Bolger (New Zealand), Ban Ki-moon, Kofi Annan (UN), Yoweri Museveni (Uganda), Mahmoud Abbas (Palestine), Mamnoon Hussain (Pakistan), Willem-Alexander of the Netherlands, Frans Timmermans (Netherlands), Marisol Espinoza (Peru), Jejomar Binay (Philippines), Donald Tusk , Radosław Sikorski, Lech Wałęsa (Poland), Aníbal Cavaco Silva (Portugal), Victor Ponta (Romania), David Cameron (United Kingdom), Valentina Matviyenko (Russia), Macky Sall (Senegal), Tomislav Nikolić (Serbia), James Michel (Seychelles), Tharman Shanmugaratnam (Singapore) Borut Pahor (Slovenia), Hassan Sheikh Mohamoud (Somalia), Bakri Hassan Salih (Sudan), Salva Kiir Mayardit (South Sudan), Mahinda Rajapaksa (Sri Lanka), Victoria of Sweden, Fredrik Reinfeldt (Sweden), Ueli Maurer (Switzerland), Dési Bouterse (Suriname), Sibusiso Dlamini (Swaziland), Jakaya Kikwete (Tanzania), Idriss Deby (Chad), Xanana Gusmão (East Timor), Kamla Persad-Bissessar (Trinidad and Tobago), Moncef Marzouki (Tunisia), Nkosazana Dlamini-Zuma (African Union), Cardinal Peter Turkson (Vatican), Nicolás Maduro (Venezuela ), Michael Sata (Zambia) and Robert Mugabe (Zimbabwe).
What a beautiful and kind world...
Comments