#save@worldofjosh
No, this website is not dead, it is only on hiatus. Thus, my various accounts on social networks (Twitter™, Facebook™ & Instagram™) are fed daily with my old explorations.
But here it is, the last quoted poses a problem for me : last Sunday, November 7, I quietly liked a photo on Instagram™, as I do from time to time. Suddenly I was kicked out of my account with the following message :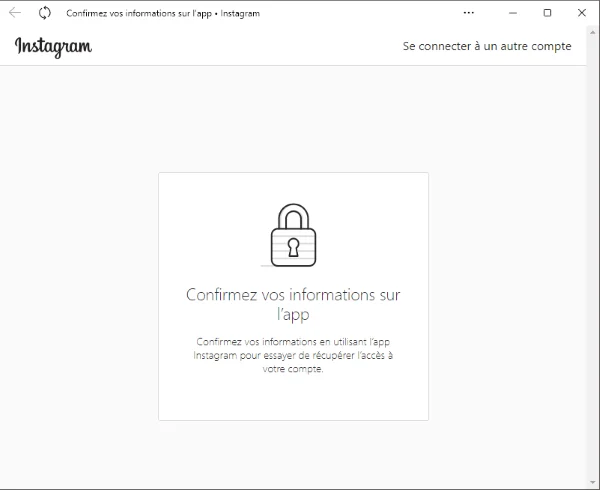 Cannot do anything except select another account.
So, I am asked to take action while forbidding me to do everything.
Is it just me who thinks this is stupid ?
Since then, I have not been able to log into my own account again. What I do know is that this kind of bullshit message indicates that you are being punished by the social network. Why ? No idea.
Since Instagram™ belongs to a dematerialized giant, there is of course no support and no human being to help me. My activity on Instagram™ (ie posting urbex pictures) must have displeased one of the many algorithms at Meta Platforms, Inc. (formerly Facebook, Inc.™ )and they decided that my account no longer met sacrosanct "community standards". As already specified, I can't know more, me, insignificant little human being (and bad customer since I protect myself as much as possible from ads on social networks and the Internet in general).
So this is the future so dreamed of by Zuckerberg and his minions ? Customers who may or may not publish certain things authorized by artificial intelligence ? It's scary.
The worst part of this story is that most of you can no longer live without these social networks, your smartphone constantly screwed at your hand, your head still tilted in your lark mirror. The future does not look very bright #yeah #aworldwithoutAI
This thing decides what can exist on the Internet or not.
We are far from the free Internet wanted by its designers.
I have never liked the grip of technology in all areas, nor social media. They are only used to promote this website, nothing else. Besides, even on my private Facebook™, I never post anything personal (if it's personal, it's not to be exposed to everyone and to advertisers).
What should be done then ? These social media crap allow you to have a minimum of visibility on the Internet but are a real digital dictatorship. Closing all my accounts seems the wisest idea to me. Will I do it ? I do not know. I too am addicted to this shit.
---
The evil of Belgium
What I love about cartoonists like Kroll or duBus is that they can, with just a few strokes of the pencil, summarize a complex subject and make it easy to understand.
Once again, Kroll has created a little gem about the aftermath of the dramatic floods in Belgium last July.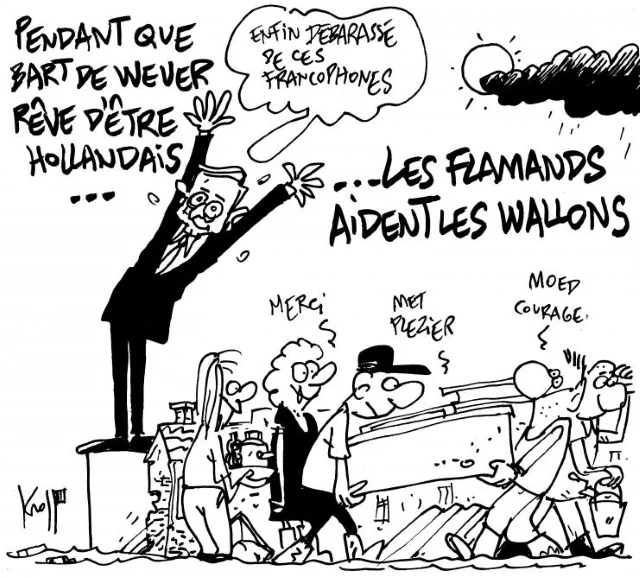 While Bart de Wever dreams of being Dutch...
"Finally rid of these French speakers"
... Flemish help Walloons.
Pierre Kroll
What is the main problem of our country ?
Who created this system that no one understands how useful and how it works ?
Who created this a real labyrinth which allows to have NINE ministers of health for 11 million inhabitants ?
Who created this avalanche of taxes which are suffocating more and more Belgians ?
Who created this system where the losers of the elections still remain in power but at one of the innumerable other levels ?
Who created these absolutely undemocratic elections, namely the ban on voting for a representative of the other community or the multiple coalitions ?
Who created these mafias that are the intercommunals ?
Who made all of our public services fail ?
Who wanted to create a division between Flemish and French speakers ?
The political world.
Nothing will change for Belgians, at least in a positive way, as long as this corrupt and disconnected world remains in place.
But we also know that people will not budge. Knowing what Lionel Messi is going to eat tomorrow is so much more important...
Finally, dank aan onze Vlaamse landgenoten voor hun hulp.
Fortunately, Belgians still know how to help each other.
---
The drama

Recent events in Belgium (and part of Europe) still force me to write something on this website, despite the scheduled break.
The dimension of the tragedy is matched only by the magnitude of the "natural" disaster that has befallen so suddenly in eastern Belgium, Luxembourg, the south of the Netherlands and two German Länder.
Massacred towns and villages (I am thinking in particular of Pepinster), more than a hundred dead and thousands of lives permanently impacted by... water. This water, usually so precious to life, has transformed here into an unbelievably indomitable, violent and murderous force.
Why ? How ?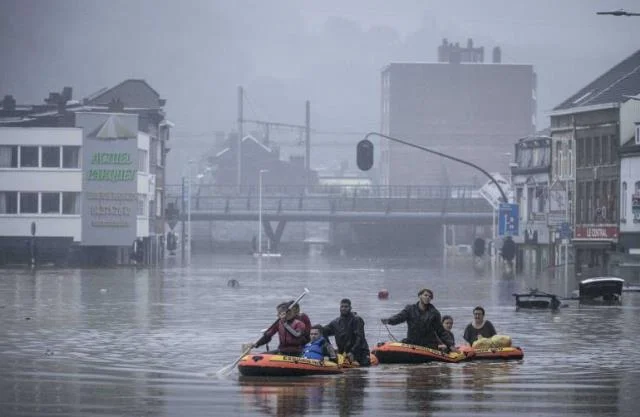 The city of Liège flooded by the River Meuse on July 15, 2021
AP Photo / Valentin Bianchi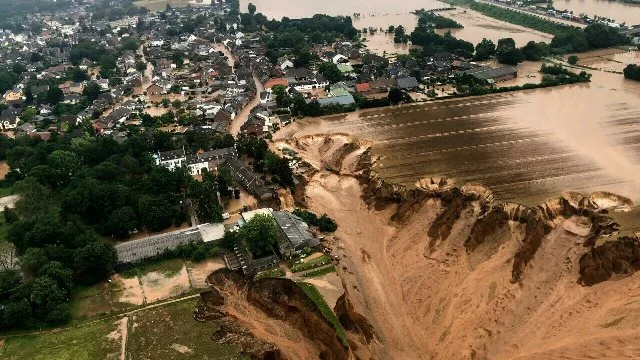 A huge landslide in Rhein-Erft on July 16, 2021
Rhein-Erft-Kreis / AP
For many years now, we have heard regularly that climate change will start to make its effects felt. Here we are !
If in previous years we were stunned by hellish heat waves, this year, on the contrary, it was the rain that decided to settle on our end of the continent. And all this rain has no other choice but to reach the sea and to do so, it has to make its way through less and less natural landscapes (read here our beautiful intensive farming, generalized concretization and constructions in flood-prone areas). Fewer natural (and permeable) surfaces and fewer trees result in more runoff. And when you have to deal with torrential rains, you get floods that are as surprising as they are devastating. For example, the Meuse rose to 6.70 meters ! All the human devices supposed to tame the rivers and streams have proved to be quite useless in the face of a wild nature. So even the Eupen and La Gileppe dams were quickly overwhelmed by the extent of the downpours.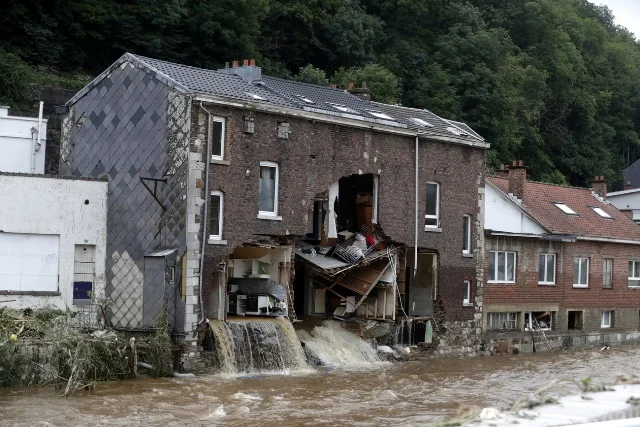 The municipality of Pepinster was particularly damaged by the floods
EPA / Stéphanie Lecocq / Keystone
What are the lessons of this drama ?
As with every disaster, nothing was anticipated despite the warnings because it had never happened.
That it's probably already too late to hope to turn back the clock on the climate.
That these insurance bastards will certainly do everything to compensate as little as possible the people who have lost everything.
That we will have to learn to live in Belgium with a much more aggressive climate than in the past.
That we are worth nothing in the face of Mother Nature.
Finally, an excerpt from an article in Le Soir on the days leading up to the deadly floods :
On Friday, July 9, the European Flood Warning System (EFAS) goes into action for the first time. They see that the Rhine will emerge from its bed in much of the German border region with Belgium.
The section of the Meuse which crosses Belgium and the Netherlands is also worrying. "On Saturday July 10, we sent the first warnings to all the relevant authorities," EFAS told our colleagues. "The following days, we sent 24 more." In 4 days, 25 alerts will be issued. "The question is to know what has been done with these". "We certainly did not receive them," said David Dehenauw, chief of science at RMI. "We are not subscribed to this system, their reports are sent to the regions. Floods are also a regional competence, we don't have the right to deal with floods at RMI."
So who did these notifications reach ? At the Federal Crisis Center, at the Walloon Hydrological Management Department, in particular. The Region remains vague. When our colleagues ask the director of the DGH, if he has received any reports concerning the Meuse, he refuses to comment further. "We have to do with the office of the Minister for Mobility," he replies. A spokesperson for Ecolo Minister Philippe Henry assures us that their services have done all they can. "These alerts are just one parameter our services keep an eye on."
It leaves you dreaming...
My thoughts are with the victims of this terrible tragedy.
Courage...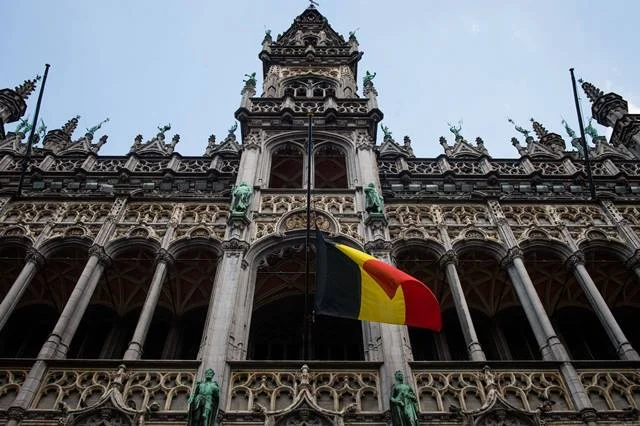 In Belgium, national mourning has been decreed for this Tuesday, July 20, 2021
Guillaume J.-C. / La Libre Belgique
---
To keep up to date with WorldofJosh.be news and become smarter, subscribe to the newsletter.
It's good for your health. And it's free for the moment!)
---
A comment, a remark, an opinion ? Do you have something to say ? Don't be shy !
Treat yourself, the floor is yours.
---
Et en français ?
Vous ne comprenez rien de ce qui est écrit sur ce site web ?
Cliquez ici pour accéder à WorldofJosh.be en français.
---