☠️⚠️ AN URBEX GOES WRONG ⚠️☠️
I made an urban exploration that goes wrong (yes, I know, it's already written in the title but that's to make sure you understand the seriousness of it !) !! You absolutely have to click to see what happened to me !!!
The video will show you what went wrong but I made it out alive !
⚠️☢️☣️☢️⚠️ It was so terrible !!! ⚠️☢️☣️☢️⚠️
🚨🚓👮 Ooh la la !!! 👮🚓🚨
Quickly click on the video !
You must see it !
In reality ? No, none of that. But it seems clickbait titles like this are all the rage.
The latest problem dates back to 2015, when we visited an aqua-park where the owner got kicked us out of the place in a somewhat rough manner.
Since then, and strangely enough, we have visited over a hundred places without any problems, sometimes meeting keepers or owners.
It's strange that some have problems every exploration, and others none.
With that, enjoy my latest photo galleries. And the real photo of the Statue of Liberty is here

IT'S EXTRAORDINARY !!!! WAAAOUUWWW !!!!
AND DON'T FORGET FACEBOOK, TWITTER, FLICKR & INSTAGRAAAAAAAMMMMMMM !!!!
WAAAOUUWWW
🕵️‍ Partners in crime (lolilol) : D-Kryptage Urbain, Kapatage & Ferver 🕵️‍
Hmm... Sorry...
Patience...
By the way, there are no videos on this channel.
You got screwed
A last minute aside
The café terraces were able to reopen on May 8, 2021.
The result is worth the detour.
A place in Namur the day after the reopening of the terraces.
No comment...
Sudinfo.be
Observation : morons who clump together to drink a beer (a vital need, it should be remembered) and filth that doesn't surprise me.
Do these people deserve to be saved ?
---
Josh grumbles... again !
As always, I am in a good mood. So, a good advice: don't start pissing me off !
I'm actually quite amused. By who ? By many of you. You are so entertaining. And it is with pleasure that I explain to you why in my latest creation which rubs shoulders with perfection.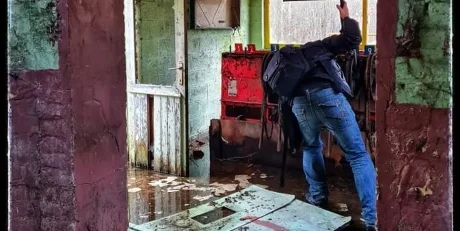 Urbex, your ruthless universe
But don't let my rant stop you from admiring some new photo galleries. You will find everything there, our visits were very diverse and varied.
As usual, these expeditions were made with D-Kryptage Urbain & Kaptage.
---
It was better before
What is urbex ?
It's a whole new practice to visit abandoned or hard-to-reach places. Very confidential practice, it meets little success and remains confidential. The media never talk about it (since they ignore its existence) and those who practice it do not seek fame or publicity. They only do it for fun and passion.
One of the "rules" of urbex (or urban exploration) is not to steal, damage or move anything, respect being paramount. The philosophy of this particular hobby is to only witness the old life of a place, certainly not actor. As if to save by photography a bygone and forgotten era.
All of the above was valid ten years ago.
Now ? It's quite the opposite !
The practice is infested with assholes and too many people find themselves in places that aren't – necessarily – abandoned anymore. The very essence of urbex has been killed by this hobby has become a fashion.
Another current aspect of urbex, that this time makes me laugh : the pseudo-philosophical phrases increasingly accompanying the photos.
What is it for seriously ? To make you look falsely intelligent ? Proofread your sentences before posting and you'll find they don't mean anything.
However, since I am jealous, I also launch into empty sentences :
In order not to be thirsty, you have to drink.
If the door is open, don't open it.
A fairly explicit reaction
All the same, I invite you to these few visits where, as it became exceptional, we didn't meet anyone.
These excursions were made with D-Kryptage Urbain & Kaptage.
---
A comment, a remark, an opinion ? Do you have something to say ? Don't be shy !
Treat yourself, the floor is yours.
---
Weather forecast
Is the weather nice ? Nay, we are in Belgium !
See the weather at my home.
---
Et en français ?
Vous ne comprenez rien de ce qui est écrit sur ce site web ?
Cliquez ici pour accéder à WorldofJosh.be en français.
---