Our freedom is inalienable
We caricature what we want in Belgium and France. We are like that, and nothing and no one will make us change. What if you don't like it ? Never mind
Caricature is not made just to make people laugh, or to please. It makes you think, when you are able to do it.
A teacher, Mr. Samuel Paty, recently died for this freedom. Let's not forget him.
"Erdoğan, in private life, he is very funny" - "Ouuuh ! The Prophet !"
Charlie Hebdo's latest cover, following Erdoğan's attacks on France
Charlie Hebdo
Definitely, I feel like the soul of a vigilante right now. And with that in mind, I'm offering you a tutorial on how to find and burn out fake accounts and other scam attempts on Facebook™.
What do you want. I enjoy participating in the happiness and security of humanity and the entire universe.
Josh's tutorials
Don't thank me.
---
Humans : the most stupid creature
Aaah, the eternal human stupidity... Humans handily win the first prize for stupidity. Being supposedly an evolved creature, humans prove every day that this might not be so true.
The second wave of the pandemic was feared but largely predictable. Necessarily...
We ask people simple things but no, it's too complicated. Result, it started again as in last March-April.
OK, some decisions of the authorities are very stupid (they close bars & restaurant but they leave schools open) and it is your right to disagree with these decisions. But it is also your duty not to put the health of others at risk.
We have relied on collective common sense to get out of the crisis. We can see the result today... Well done people !
Soit.
To reward the smartest of you (therefore, those who visit this website), I am offering you a series of black and white night photos of the streets of Mouscron. It's a safe bet that these are the last photos I was able to take before a probable general reconfinement. Yeh.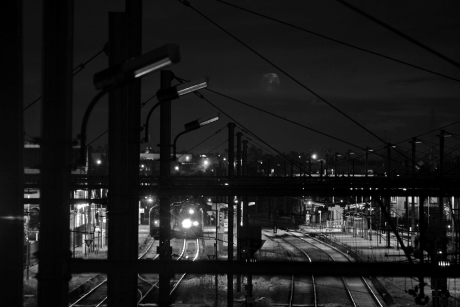 Urban & nocturnal
To end on a much more tragic note...
Homage to Samuel Paty.
Thank you Sir.
---
To the darkness of winter
Rejoice brave people !
The long, warm summer evenings are finally behind us. Now make way for the endless and cold ends of the day, so favorable to introspection and the quest for the divine that is hidden deep within everyone.
Or you can also stupefy yourself in front of the TV, this activity may be more suitable for you.
That being said, I offer you two new releases, made in the company of Ferver.
Four more forgotten industrial sites. For the moment, and it isn't for lack of trying, only these kinds of places have been accessible to us. What do you want, that's it.
A small chapel is nevertheless invited among all these industrial sites. Thanks to it !
Little last minute gift ! A quick exploration made in March 2009 : the Giot Foundry.
Or when I do urbex before doing urbex.
With that, I wish you (your choice) a good flu, bronchitis or the always very fashionable Covid-19.
---
The old news are here, in the archives of WorldofJosh.be.
---
Comments
A comment, a remark, an opinion ? Do you have something to say ? Don't be shy !
Treat yourself, the floor is yours.
---