New York is called "the city that never sleeps." I confirm... There is no way to sleep here.
In a frenzy incredible, everything is in perpetual motion, regardless of time and there is so much to do there.
Chaotic traffic (traffic lights have limited relevance for both vehicles and pedestrians), trucks rub carefree tourist buses or limousines.
You get lost easily in Big Apple... Its grid layout is losing you all sense of direction, as all streets and avenues are alike. And this particular plan promotes the creation of wind corridors : in a street, all is quiet on the next corner, you may have to fight against a huge wind. As for the subway, once the system assimilated, it becomes easy to find the way.

But I must admit it's nice to get lost : at every street corner, a surprise. This city is an unlikely mix of skyscrapers of several dozen floors and small shops seem out of a slum, where ostentatious luxury doesn't hesitate to show off in front of a glaring misery.
A city of contrasts and paradoxes, NYC is amazing.
Point of view daily life, New Yorkers are at the antipodes of our peoples. Champions all categories of wastage, the Yankees are unaware of what is double glazing, heating goes to maximum (including outside !), sorting and compacting are unknown, systematically two plastic bags in the store, only big cars (no small cars in the streets) whose only passenger is the driver, urban lighting running in daylight (and during the night, it's like being in broad daylight as it is lighting is overkill), and finally, they are chilly ! As I walk around in my shirt and light jacket, our American friends are bundled up in ski jackets, bonnets and gloves.
By cons, natives are far more open than in our countries : in just two days here, already more than one dozen people started talking to me like that, just to chat. With my very good English accent, they soon realized I wasn't one of them. Regardless, they are nice.
And we feel much safer than in our cities, Gotham being watched by some 35,000 police officers of the NYPD.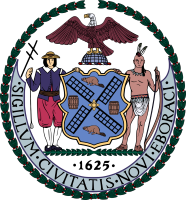 Seal of City of New York
The program of this three-day visit :
Day 1 : Bryant Park » Empire State Building » Time Square.

Day 2 : High Line » Hudson River Greenway » Central Park West » Cathedral of St. John the Divine » Time Square (by night).
Day 3 : Brooklyn Bridge » Downtown & Financial District » Liberty & Ellis Island.
Sadly missed by lack of time : Flatiron, Madison Square Garden, Grand Central Terminal, Central Park, Uptown, St. Patrick's cathedral and SoHo.
Although I must admit, during my first few hours there, I wondered what I was doing in this huge city, in this space that I was completely unknown. This feeling was quickly dispelled, however, and I am then quickly felt all right.
Anyway, I'll try to come back.
---
---
Comments