No gallery here. In a photo topic, it's a bit absurd.
Just an evocation of places I would not have the chance to visit.
Places repeatedly photographed and described on specialized sites but have irretrievably been lost. They couldn't resist to the demolition sent by the authorities. Those authorities who take pleasure to clear vestiges of those sites that have made the greatness and wealth of our country. Sites that have been the scene of social confrontations. Places that were symbols of a city or an entire region. Those places where I could unfortunately never put my camera.
I restarted my hobby too late...
Other places have not disappeared but have been completely denatured. No more interest for me.
The Belgian industrial heritage doesn't exist. Apart from one or the other exception (Bois-du-Casier, Beringen), all disused sites become dust. However, as explained at the time, these places were the centre of countless people. Generations who spent their lives. It doesn't matter.
Then came the closing and the rest of story. Armies of scrap dealers and vandals appropriate the place and ravage all that there can be. Then, after several years (or decades !), authorities arrive (often hidden behind the SPAQuE) and decreed that all must vanish "because it's dangerous and not beautiful.". Friendly conversions sites are however possible : just across the border. But in Belgium, we are adept of short-term vision. It's not now that will change.
However, the Berlaymont, in the heart of the European district of Brussels, it's still standing. Although declared unsafe in 1991 because of the presence of asbestos, this colossus of concrete has been renovated for an astronomical cost to the Belgian State, which lasted thirteen long years. And only for the pleasure of our very expensive and unnecessary EU officials. He also was ugly and dangerous...
I've always been attracted by the old stones but not only those castles and cathedrals. Industrial facilities as well.
There is an own aesthetic, not found elsewhere. A tangle of sheet metal, glass and concrete, and after the abandonment, greenery. It's possible to find a certain beauty. This is of course just my opinion. But I'm not the only one to share.
Among these clusters of rusty sheet metal is Kasteel van Messen, in Lede in East Flanders, the famous Château Miranda and the Valdor hospital in Liège. Three great classics of Belgian exploration that are passed from life to death.
This is not nostalgia but a simple observation. Bitterish.
Make a clean break with the past. However, no past, no memory...
Clabecq
The gigantic Forges de Clabecq in the province of Brabant.
Perhaps the Belgian industrial site that has the most crystallized emotions during the resounding bankruptcy in the 90's. Nobody has forgotten Roberto D'Orazio and Alain Zenner...
The final demolition began in 2008.
Reportage on the Tchroski website.
Edit - In 2022, I was still on a pilgrimage to the ruins of the last blast furnace still standing. The photos are here.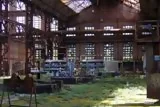 SAFEA La Louvière
One of symbols of the fall of La Louviere...
Large industrial complex that manufactured nitrogen fertilizers, it closed its doors in 1978.
Since the abandonment has allowed nature to recolonize the area.
Until his death in 2007.
A very complete gallery, still on Tchorski.
Puits 18 Monceau-Fontaine
Certainly one of the most beautiful coal mine in the country.
A beautiful architectural unit that will be destroyed in 1991, a new smart decision by the city of Charleroi.
The beauty of this site is far beyond our borders, to no avail.
Visit on the website PostIndustriel.be.
Ets. Motte
Unknown outside of the town, the old establishments Motte allowed Mouscron move from a small rural village to the Belgian capital of textiles.
Between 1907 and 1983, nearly 2,000 people worked here.
Located behind the train station, no one could miss the clock tower, the symbol of site.
Following is here.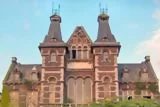 Valdor Liège
Large hospital built in 1899 of brick and stone, it will be abandoned in 1987 in favor of more modern buildings.
With a beautiful architectural unity, all visitors were impressed.
The end of Valdor begins in 2006, with the extension of the new hospital. Only the monumental façade will be retained.
Presentation of place on Forbidden-Places.
Carcoke Tertre, Buda-Marly & Zeebrugge
Three sites, three regions, the same fate.
Carcoke (part of Cockerill-Sambre group) acquired over the years in these three coke factory in Tertre (Mons), Brussels and Zeebrugge.
They will close their ovens in the 90's and will be delivered to plunderers for a decade, before disappearing.
Tertre and Zeebrugge have been visited by Tchorski, while Buda Marly has been visited by Abandoned-Places.
Demolition of Buda Marly has caused a great fire.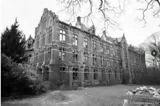 Kasteel van Mesen
A site simply outstanding.
Alternately defensive castle, lodge, gin distillery, sugar refinery, school and finally boarding school for girls.
Abandoned for three decades, time has made havoc here.
His vast chapel keep, by cons, stained glass preserved during this time. A true miracle.
Demolition should soon began, unless an unlikely turnaround. Its last owner was the Ministry of Defence.
Description and visit by Forbidden-Places.
Edit - Finally, I had time to go, but it was in extremis. Pictures are here.
Château de Noisy / Miranda
That one, I can say that I regret it bitterly !
Tempted but missed in 2012 after a terrible weather making climbing the hill completely impossible, I told myself that it was not so serious and that I would still have the opportunity to return. Well no !
Especially at that time, it was still in relatively good condition and it had not yet become a mainstream attraction. Then things spoiled slightly...
I waited until I returned before learning one day that his demolition had begun. Shit ! One of my musts that goes from life to death !
The fight of his defenders against the owner will be a real melodrama, relayed in the press, which I followed with extreme attention. Since then, of this magnificent neo-Gothic castle, nothing remains of it. Pathetic...
Description and visit by Forbidden-Places.
Pictures belong to their respective sites.
---
---
Comments