When I explained on the page dedicated to my photos that I had kept only my memories of my first explorations, I came across, precisely, a picture of one of these places. Immediately, I had to share these memories with you. So back to the early 90's.
Internet was still completely unknown in Belgium, the young people of the time knew how to speak, read and write, you could walk after 8pm without risk, the telephone was only used to telephone (and wasn't an extension of the human body) and No Limit from 2 Unlimited was a radio hit. In short, a gloomy epoch that it's better to forget. Sigh...
Doing nothing like everyone else (yes, already at the time !), I convinced my friend Laurent to accompany me to places that nobody visited, for the good reason that these places were totally forgotten. I don't know why I've always had this overwhelming attraction. Perhaps for the calm that reigns there or for the chance to meet no one there. I don't actually know. But the fact remains that my passion for urban exploration really began at the start of the last decade of the 20th century. Damn, it gives me a blow of old this story...
Let's go for a little description of these few places.
Château de Roisin
Well... This one dates back to well before the 90's.
I cannot say that I visited it but when I was eight, I was absolutely fascinated by this gigantic castle falling into ruins. Being able to see through the gutted windows a completely ravaged and partially collapsed interior, I had only one desire : enter and play adventurer.
Obviously, I was forbidden to came in but this castle is for me the starting point of my passion for forgotten places.
The castle was scandalously destroyed in the early 90's and replaced by... a gravel parking lot.
Pathetic...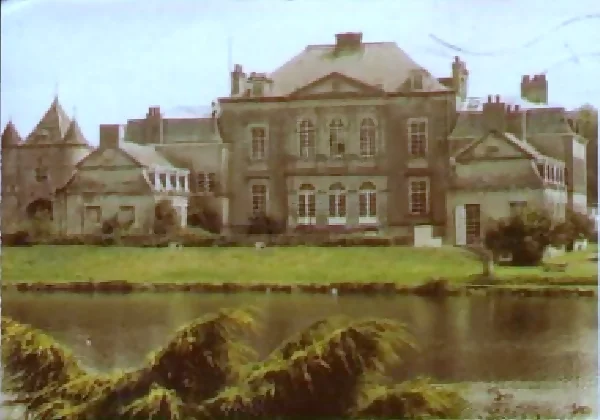 The Château de Roisin a few years before its destruction
This beautiful castle is mentioned on the page dedicated to the Haut-Pays, visited in 2009.
Masurel Factory
Here is an old large textile factory as there were dozens in Mouscron.
Closing one after the other, some were fortunate to be converted while the others were already ancient history in 1992. This is the case of the Masurel Factory.
If the textile activity was stopped in 1969, the buildings experienced several reallocations until the opening of a furniture store in 1977. In 1990, an "accidental" fire ravaged the sheds (that is to say, the majority of the site) but spares the administrative buildings and a large warehouse at the ends of the site.
Like Indiana Jones, we had fun entering the site in the most discreet way possible, putting together plans the crappy ones each other. And once inside, we set out to explore the buildings as much as possible. Obviously, when you're 14, you don't think about the risks. Creaky floors or walkways overlooking the void ? Let's go for it ! Come to think of it, we were very lucky at the time !
It was at the corner of a corridor that we came across a large room completely covered with earthenware. If the exteriors of the factory were poor, this room would certainly have been immortalized. Unfortunately, Mouscron never took care of its heritage and the entire factory was demolished in 1997. In 2020, only a historic factory still remains. Its death is already scheduled.
The Masurel Factory in 1988
Château Allart
I have known this little castle for ages. It was only while writing this that I discovered his real name. We really learn every day.
Perhaps the most difficult exploration. Totally neglected for decades, there was no way to get into it. Trying it several times, we finally found access. Once inside, we were speechless ! Everything was still there, right down to the perfume bottles in the bathroom. The central room, circular in plan, was truly magnificent !
This place was so well preserved inside (the outside was completely devastated) that we wondered if it was really abandoned. Obviously, it was. But this place had a scary side and we never went back there again.
In the early 2000's, its rescue began. The little castle was saved, I was happy with it.
Château Allart in 2003, during its renovation
Château des Comtes
Originating in the 15th century, this proud castle has had a very eventful history.
Abandoned but restored externally in the 70's, the old manor will be the city's great forgotten for two decades. Even the locals didn't care and only a few enthusiasts wanted to defend it. On the barbed wire closing the access to the site sat a poster indicating "Castle to save".
The 18th century barns had either been demolished or had their roofs removed. Needless to say, the buildings suffered a lot. As for the castle, if the facade looked great, the interior, on the other hand, had been vandalized in a fairly violent manner. Stucco decorations, only a few vestiges remained. No more ceilings, no more floors, just the main beams that kept the walls standing. We were having fun walking on these beams, 5 or 6 meters above the ground. Fear is unknown at 15 years old.
We are also doing everything we can to hinder access to our favorite castle. Thus, we collect as much wood as possible to mount reinforcements against the doors and window shutters. We had our secret access and there was no question of intruders coming to take our loot.
Alas, in 1994 or 1995, assholes managed to enter and set fire to it. All the roof framework disappeared and a catastrophic reconstruction took place. Since then, the castle has been in a lack of stability and brackets have been placed to prevent any collapse. As for the barns, they have been modernized (in other words massacred) and extended by a magnificent concrete building. It's modern so it's beautiful. And if you think differently, you're just a jerk !
The Château des Comtes, or what's left...
That's all for these evocations of my earliest memories of urban exploration.
It will take me 10 years to rediscover urbex through the Internet.
---
---
Comments