Archives 2014

---
2013 • • 2015
December 7 • November 16 • August 10 • July 6 • April 27 •
March 23 • March 16 • February 16 • January 28 • January 1
---
Back to King Boudewijn
It may not be a fan of the royal family (which is not my case), but to see die such an iconic person for the country as was Queen Fabiola leaves no one indifferent. TV channels will broadcast all they can to stuff our heads, politicians say their finest false speech and hollows and finally, the populace will have fun debating on what to Fabiola cost to their billfold.
We can always discuss the usefulness and cost of a royal family in our sad time. Either. I would just like to remember that this isn't our crowned heads that have a stupid idea a week and we pump our nest egg. Instead, look towards our 314 parliaments and other assemblies of stashed mafia members...
The country loses in this end of year a certain idea of Good Old Belgium and a controversial personality.
Her testament proved that she was a great person.
---
Autumn Leaves
What better than to quote the title of a famous song to illustrate this magical season that is autumn ?
And as I have the soul of a poet in this cold and dark November evening, I can't resist to mention the famous tirade of Ben in Man Bites Dog :
"A thousand leaves mingle
In the misty breeze,
Plump brown chestnuts
Pummel the ground yet I remain unharmed.
The cold spews scorn at summer's dying twitch,
Which with a last lazy stroke
Warms my limbs aching from another assault
Without trumpets or banners,
See it, here it comes.
The splendid autumn."
Well, well, well...
I stop messing around (if not, we will still say that I'm an elitist...).
So I present my latest urban exploration trip, made this beautiful autumn (that's for the transition to the first paragraph).
Visit the Pensionnat Catholique, with D-Kryptage Urbain & Kaptage, and another (old) visit to the park of Mouscron.
A good flu for everyone !
---
How have the time to take your time ?
Aaahhh, the lack of time...
Today's society takes us all. Thus, we are working (at least for those who are lucky enough to have a job) to pay taxes and bills, our days, weeks, months and years are structured by work, and the same professional occupation forces us sometimes to cross the country from side to side regularly, and, finally, makes us meet new people that I appreciate (the only point to be really good). Alas, the days are only 24 hours and I haven't yet found a way to extend a few hours this fucking constant.
Obviously, with this way of life, my little hobby is set aside, in spite of myself.
Tic tac tic tac tic tac...
I still managed to escape a few days, for not forget that I have a camera.
Between suitcases defeats and immediately take, I publish my latest releases, sometimes in solo, sometimes with my adventure companions D-Kryptage Urbain & Kaptage.
The year 2015 should, hopefully, be a little more generous in time than 2014.
I'll therefore try to take my camera bag more regularly.
---
End of World (Cup)
You can turn off the TV and resume normal activity.
For me, the great football planetary mass media ended with the (premature ?) elimination of our Red Devils. Now, I don't mind the name of the final winner - as long as it's not the Netherlands.
In Belgium, the "artificial" national unity and gladness quickly will give way to traditional bullshit of politicians, we quickly forget that we're scammed by these same politicians, that our roads are still quite rotten, and the scandals that have glazed the preparation and organization of this competition (population displacement, corruption, death of several workers during the construction of stadiums, etc.).
Bruno Fahy/Belga
Well done anyway !

But ultimately, what will our national team missed to qualify for better ?
More rigor, more efficiency, less fear of a great opponent, maybe ? We know the next big event, namely the Euro 2016 in France. Must still qualify...
The first quarter-final for 28 years, that's fine, but it's not enough...
---
In exil
I have an awful announcement for you, faithful readers.
This website will be paused for a few months.
Why ?
I can't reveal it to you. "They" could be annoyed.
Not only the website will be in pause, but personally, I'll also forced to exile for the same period. Ignoring whether electricity or any trace of modernity are available where I'll be, I can't guarantee a response within a reasonable time if you want to insult me or send me sweet words.
Don't worry, I leave you to provision my last pictures and an article plunging into the depths of human psychology : speak about professional wrestling (but only in French. I know, I'm lazy to translations.).
All this should help you during my absence.
But if you really can't stand my silence during those few weeks, kill yourself !
Therefore, see you in August.
Or September.
Or even a little later. Or earlier.
If "they" let me back...
---
Waasland is Maesland
Ladies & gentlemen, here's the breaking news that nobody cares in the south of Belgium.
Sporting Lokeren won the Belgian Cup against Zulte-Waregem (where Barack Obama will be soon).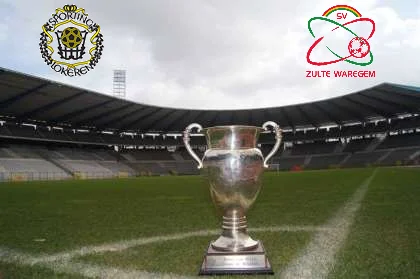 After the victory in 2012, a new trophy will come fill the trophies' showcase of De tricolores.
Congratulations to Waaslanders !
---
Bunkers & buttermilk
Let's be eclectic !
To celebrate the return of warmer weather (what a ridiculous excuse !), I have two subjects that have - but then ! - nothing to see them.
Besides a tour of friendly bunkers lost on the Opal Coast, a few considerations that will whet your appetite.
This is what is called have a finger in every pie.
Good reading.
---
Welcome in Belgium
In Belgium, we know that we have a vote on May 25. In our country, voting is not a right but an obligation. Either...
Inevitably, the campaign trail has just begun (at least officially) and our dear losers are definitely ready for anything to be present in the medias.
The great winner of this year, far back, is our Emperor-Prime-Minister-Protector-of-Poors-and-God-Almighty Elio Di Rupo.
This is what governs us...
After a socialist mayor singing Tout nu et tout bronzé in suiting the action to the word, there is our Emperor half naked for the Flemish media.
Conclusions :
the socialist does not like being dressed like and want to let everyone know,
the socialist would do anything for media interested in him, even if it's bribed to him,
unfortunately, ridicule doesn't kill,
EDR will do anything to please the north (in contrast, the ex-Fat Bart didn't care about the south), it's not very far from prostitution,
the same Elio is ready for Big Brother.
Multiplication of bankruptcies and business closures, snacking social gains, explosion of the cost of living, corruption at all levels, country's falter, etc. will not suffice. Play to Chippendale at 62 years old is clearly a best guarantee for campaigning.
With all that, we will be left with the same team of pathetic politicians after May 25...
Indecency makes me want to vomit...
Fucking country...
---
Autumn ? Winter ? Would have to decide !
Back to urbex in this beautiful... undetermined season !
Between thunderstorms, hail and storms, nothing (or almost...) can stop us in our explorations.
In the roadbook, four visits (worth more than 5 points - a word to the wise !) who have done me great pleasure.
---
From the bottom of my heart...
I wish you a very happy new year 2014.
May this New Year bring you happiness and prosperity.
...
Well...
Do you think I'm unfeigned ? It's cute...
It's done, I said the usual lot of bullshit, and so you can forget 2013 and restart over again.
Puke a good shot, forget the good fat meal (and not necessarily tasty), don't try to pretend that you hold your resolutions, don't be naive and prepare for the worst.
---
2013 • • 2015
December 7 • November 16 • August 10 • July 6 • April 27 •
March 23 • March 16 • February 16 • January 28 • January 1
---